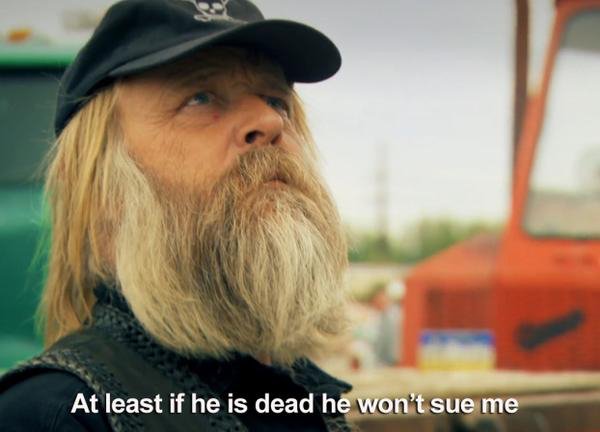 You don't know who this is do you? Like all things these days, there are a lot of things funny and not pulling on our attention and time. Tony is, apparently, the gold mining king of the Klondike a star of the show Gold Rush. But, for me, he is a very entertaining, no bs kind of business owner. I would guess he makes millions of dollars mining gold in his small business. He has comically large expenses, like he needs to buy a million dollar bulldozer and there are days and weeks when he is putting money into the business stripping the overburden before he can get to the gold. But, once on the gold, Tony is relentless about pushing his crew to get results. Described by his daughter as loved by animals and small children, Tony is one of a kind. If you are loved by animals and small children, there are a lot of people who don't love you or your manner. It bespeaks a disregard of social norms, but a good heart underneath. Tony curses so much and is so rough on his people that you have to see that success is what keeps people coming back to work for him. In gold mining, there are lots of failed miners and few success stories. Tony is a success and survivor.
Even his competitors shake their heads with admiration. We cannot all run small businesses mining gold, but Tony's malapropisms like Asp for ASAP tell you that he is a crazy hard working immigrant who really cannot be bothered getting the word right as long as you understand that you are taking too long doing his work for him. The workers who succeed there are no bs kind of people. I like watching his drive and push to get things done. Nothing comes easy when you are in a remote area and there is always a need for two or three back up plans. If you are an environmentalist, this is not the show for you. I have not figured out the environmental impact of this show, but they dig a lot of holes, burn a lot of diesel, and move water flow around willy nilly. But, it is entertaining to watch.
In my practice, usually I have a pretty good idea how a case will turn out or I would not have taken it in the first place. However, the focus of the case or the weaknesses of the defense only become apparent during the course of discovery. If everyone agrees that nobody was watching the store when it was robbed, that's a problem for someone. In complicated cases, it takes some time to figure out where the case problems lie for both sides. While I can look at a sidewalk and tell you why someone fell or look at medical records and tell you what went wrong, often only the people involved in the hospital or responsible for the sidewalk can tell you why the problem developed. So, in my world, digging out the overburden or stuff that you and I call topsoil is a process of obtaining records and taking depositions.
Often, the best thing that can happen for a plaintiff is for defendants to be pointing fingers at each other, but you will not necessarily see that until depositions press opposing counsel to make a decision on how to defend a case. Once people are under oath, it is hard to undo finger pointing. So, in order to be the success story and not the failure, finding the weakness in your opponent is an important step in getting a really good result for your client.
Yes, you could probably get an okay settlement for a client with a real injury and real liability on the defense, but can you add value to the case? Can you find a way to make the case indefensible? That is where I try to find my worth. I recently finished a case where a very experienced expert suggested a potential defendant that I had simply not considered. Consulting with my expert before filing the case made a big difference and increased the settlement value of the case by over a hundred thousand dollars. What is the end conclusion here? Get the case figured out as early as possible. Get your expert on board and informing your view of liability and potential defendants. Is this approach rocket science? No. Is it good lawyering? Yes. That is what you get from the small focused firm. The big advertising law firms will plow through your case and get to the end result, but will miss significant value along the way, because they don't really care and your case does not matter to them.