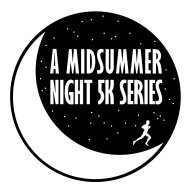 UPDATE: Tonight is the Rescheduled June Race in the Midsummer Night Racing Series. Come on out and run, mingle, and have a great time with me. (on my birthday)!
Previously:
I am now the newest sponsor of the MidSummer Night Racing Series on the Main Line.  The series is a 5k race every month on a Thursday night.  The first one is this Thursday, June 8, 2023.  The others are July 13, 2023 and August 10, 2023. Come out and run if you like.  I will be running a sponsor booth and giving away bags with my logo on them.  My wife and children and many friends have run the race series over the years. Every year there is one really rainy night, a really hot night, and something in between.
The Midsummer Night 5K Series is on Thursday June 8, 2023 to Thursday August 10, 2023. It includes the following events: 5K- All 3 Races, 5K – June, 5K – July, 5K – August, 5K-Virtual, Kids Race June, Kids Race July, and Kids Race August.